Top 10 Tips To Build Successful Career In IT [2020]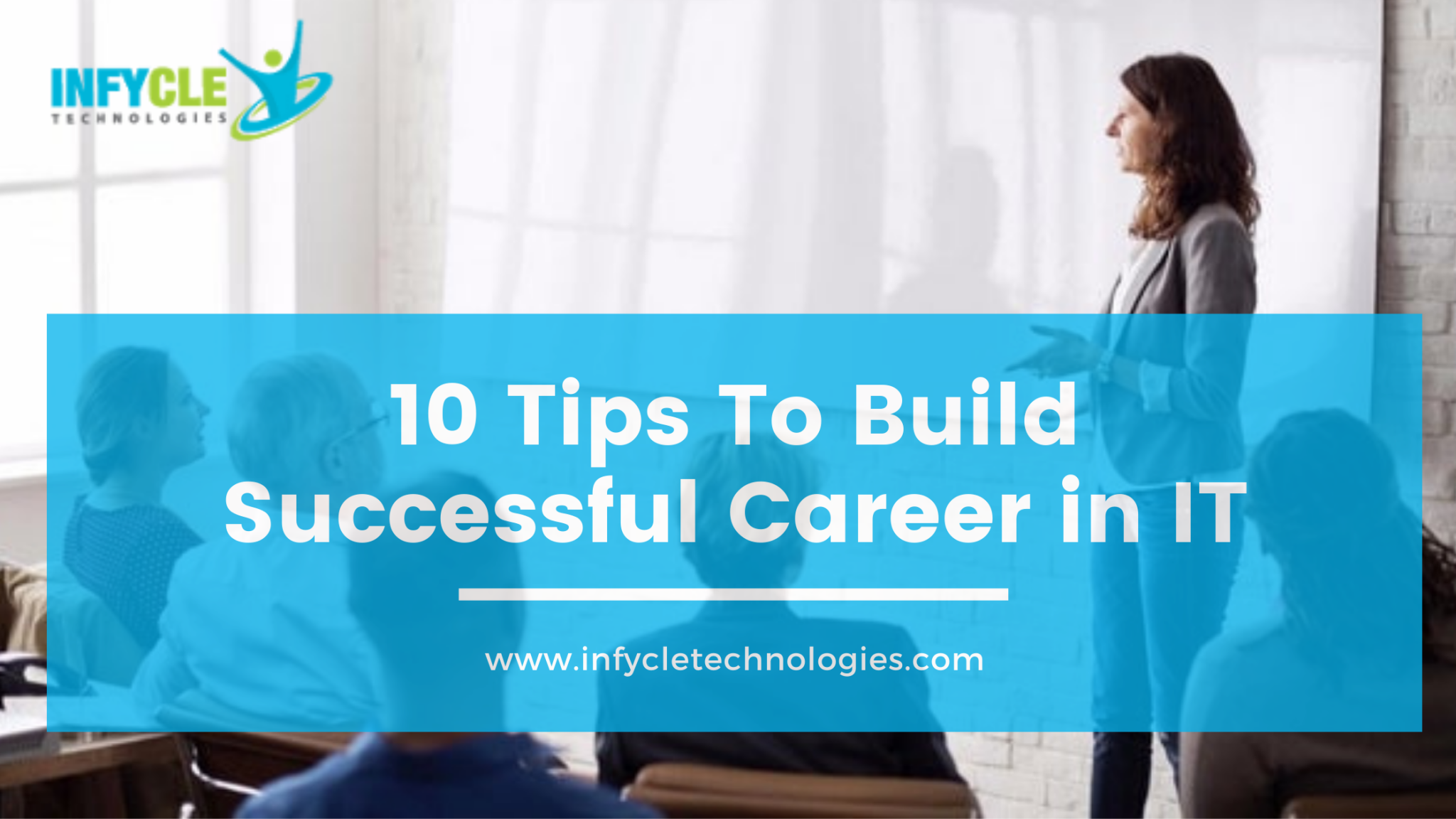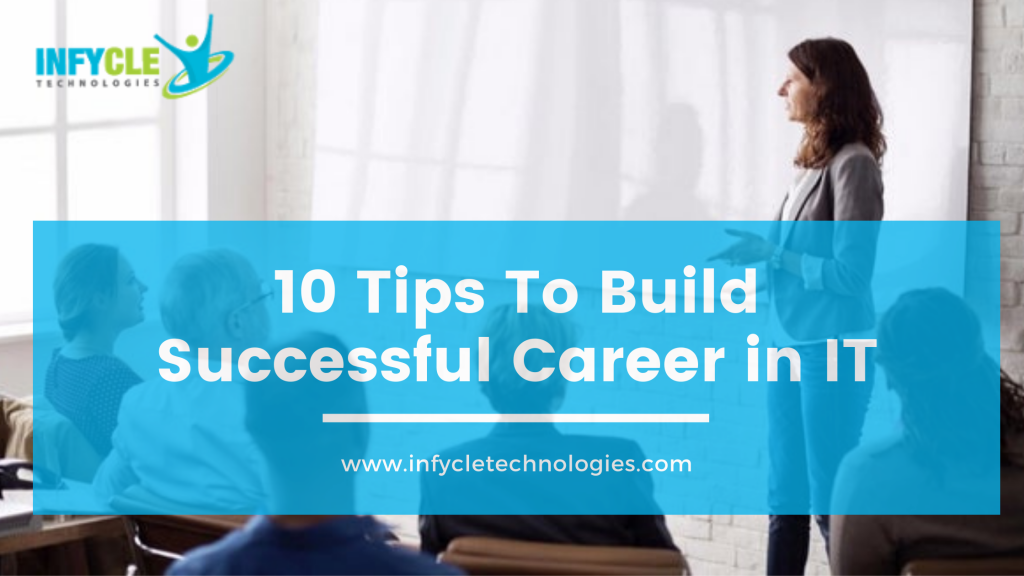 Today we got surrounded by an unexpected pandemic condition which created uncertainty in everyone's life. Still, it's our prior responsibility to make things favorable at any situation. Either you are a beginner or amid your career, this is the right time to build a successful IT Career Planning in 2020 
Despite our education or job role, we all have somehow related to Information Technology either directly or indirectly and it depicts the evolution in any industry we step in. So, mastering the top technologies and paving a successful path in IT is one of the best you will do for yourself in 2020. We at Infycle Technologies provide the Best Software Training in Chennai, and hence it is our sheer responsibility to educate and provide tips for building a successful career in IT to all the aspirants through this blog post.
Tip1# Know Your Tech Path 
The first and foremost tip for building a successful career in IT is to select the right technology path of your professional life, this might include your area of expertise (a bit as a beginner), or your favourite stream, or the combination of both. Say for example if you are good at sketching and colours, then you can build your career in designing, similarly, if you are good at convincing people and knows the digital trends, then you can opt for digital marketing. People who are interested in codes and program development paralleled with applying logic in it from a different perspective, and then they can learn any software or technology-oriented programmings like Oracle, BigData Python, Data Science, AWS, and more. Building a successful IT career in 2020 is vital since we have stepped into a new decade with a pandemic situation.
Tip2# Learning & Practicing Should Go Hand In Hand
The next tip in building a successful IT career in 2020 is to learn and practice any technology in a parallel way, say you might wish to become a great digital marketer or a highly demanded programmer, you need to practice a lot than you learn. One must find the right space to implement any range of learning to get well-versed in it, and only this approach would make you a pro. Let it be an unpaid internship or a low paid job, if you get a huge scope to learn and implement things you love and wish to excel, then you must be blessed here. Being a reputed Software Training Institute in Chennai, Infycle Technologies will be the best spot for aspirants to learn and deploy the concepts in which they wish to become experts at a point.  
Tip3# Build A Powerful Resume 
One of the most important and alluring tips for building a successful career in IT is to build a powerful resume. When it got started as a powerful resume, then it must be highly impressive and doesn't make the recruiter turn away. The perfect statement defining a powerful resume is to project your skill sets and merits uniquely, hence you need to avoid copying any format or presenting it in the blandest way that paves to rejection. One can mention a deep level of understanding in technologies & real-time projects and even external areas of interest to make their resume captivated by avoiding the stereotypical projection of random skill sets and educational qualifications. 
Tip4# Approach Companies & Ask For A Feedback
Letting out yourself into the job market and unleashing your expertise in front of the recruiters will be the next step in building a successful IT career planning in 2020, this is not the age of job offers to fall in your hands, and one need to keep on trying until they get landed in the desired job. In this digitized world, one can get easily exposed to several methods in applying for a job by being active in professional online space like LinkedIn, uploading their resume in job portals, direct emailing to companies, and follow up the same by contacting HR persons. Getting selected or not doesn't matter, what matter is how you approach companies and how you ask for genuine feedbacks to improvise yourself. but Being the best Software training center in Chennai, Infycle Technologies provides placement assistance to their candidates to get landed in a suitable job.
Tip5# Attending Interviews Like A Pro
Without providing this tip for building a successful career in IT, this blog would always remain incomplete. One must face the real professional world at a certain point, and it begins with attending interviews. Despite the competency level, an individual must attend as many interviews as to know the exact happening in the selection process, and the different methods adopted by the organizations in finding the right talent. Except for the technical skills, companies assess the aptitude; attitude approaches of a candidate and decides whether they are the right fit for the concerned position. At Infycle Technologies, we always provide the all tips and assistance to our candidates to perform well in their interviews.
Tip6# Learn Extensive and Go Advanced 
One of the best suggestions given by any technology expert in building a Successful IT Career Planning in 2020 is to learn in an extensive and widespread way. For instance, if you're a web developer then learning and possessing the basic skill of web designing will never make you any less among your peers. Let's say you're a java developer who acquires Java training and looking it into an elaborative way a Java developer can learn high-end development languages like Python or get them involved into a different stream of development like Android app training will only make you an inevitable asset to your organization.
This one would be the rarest tip for building a successful career in IT suggested by any experienced person, but its importance is undeniable. Possessing integrated development skills are sheer necessity when you get entered into the IT world; interpersonal skills are nothing but corporate social skills that everyone must possess when choosing the career path in the IT sector.
Tip7# Build Strong Communication Skills
No, we are not talking about your fluency in English but your ability in conveying your thoughts technically in English in a way it reaches your employer. Communication is not just the way one converse with their peer, but it also involves the listening part which is of high demand even amongst the top-level executives and presentation one's ideas and thoughts in an impressive way either textually or verbally that reaches everyone in the team. 
Tip8# Exhibit Leadership And Become The Solution Provider
Exhibiting leadership is not about overruling your superior, but it is defined to be the sheer act of taking the initiative and playing the perfect role of a team player. One would say that this is an essential skill, instead, there is an instance where projects got crumbled and dismantled due to the lack of leadership skills. So, before you master any technology you must become an active team player & solution provider is the one thing you must consider in building successful IT career planning in 2020.
Tip9# Upgrade Your Skill Every Single Day 
Learning is a never-ending process, and one needs to keep on learning in their professional life to withhold a developing curve, especially when it comes to the IT industry. Actively participating in tech forums, developers' sites & confessions will help you become a leader in whatever technology you choose.
If you have a clear vision on how to navigate yourself to reach desired goals then you got nothing to worry about! But if you're someone who doesn't have any idea about IT or identifying your career path then you got our support. Being the leading Software Training Institute in Chennai, Infycle Technologies will be the best spot for any students, industry professionals, and even entrepreneurs to upskill their talent and sculpt their knowledge accordingly by choosing top technologies.
Tip10# Be Your Own Brand Ambassador
Building yourself as a brand term your uniqueness and depicting the same would be the final tip for building a successful career in IT; one must have a strong conviction to build a strong profile which broadcasts your skills and works. Also, spend time knowing your strengths and weaknesses and keep working on them to shine better and must possess a goal-oriented career with a clarified roadmap. Being a renowned software training center in Chennai, Infycle Technologies helps its enrollers to become a brand and shine in their professional world.
Wrapping Up 
Either you are in 2020 or 2100, you need to have a proper career goal and clear vision in assessing the various pathways in it to achieve and then build a prompt roadmap. Hope these tips would have certainly provided better clarity in your mind. Infycle would also love to give more insights about career, technologies, skillsets, software industry, and more. Stay tuned with us for more useful insights, also you can get free career guidance from our experts in case if you're struggling to figure out your career path. For more info: www.infycletechnologies.com